JAN/FEB 2000
VOL 21 No. 1
FEATURES:
Don't Ask, Don't Know: The Biotech Regulatory Vacuum
by Ben Lilliston
Down on the Farm: Farmers Get The Biotech Blues
by Michael Stumo
The View From Wall Street
by Charlie Cray
The International Food Fight: From Seattle to Montreal
by Kristin Dawkins
In The Pipeline: Genetically Modified Humans?
by Richard Hayes
INTERVIEWS:
Traitor and The New Life Science Industry
An Interview with Pat Mooney
Changing the Nature of Natures
An Interview with Martin Teitel
DEPARTMENTS:
Editorial
The Biotech Challenge
The Front
Monsanto Sued - Corporate Welfare Challenged
The Lawrence Summers Memorial Award
Biotech Futures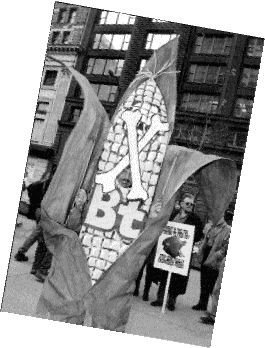 Don't Ask, Don't Know: The Biotech Regulatory Vacuum
by Ben Lilliston
A growing legion of biotech critics are contending that key U.S. food safety and environmental regulatory agencies have allowed the introduction of genetically engineered crops into the food supply and the environment without sufficient precautionary testing.
Evidence is mounting, they say, that this reckless action is putting people and ecosystems at risk -- and consumers in the United States in increasing numbers are joining those in Europe and elsewhere in endorsing this view by objecting to the sale of genetically engineered foods. MORE>>
Down on the Farm Farmers Get The Biotech Blues
by Michael Stumo
Linus Solberg is a farmer from Cylinder, Iowa. He grows corn and soybeans and raises hogs. Solberg has also been a seed dealer for years. From his farm he sells corn, soybean and other crop seed to local farmers for a relatively small commercial seed company. Some of the seed he sells and plants is genetically modified (GM).
But Solberg is not a fan of GM seed. GM crops are not more profitable, he says, but they can "make terrible farmers into good farmers." MORE>>
The View from Wall Street
by Charlie Cray
Last June, biotech industry analysts from Deutsche Bank Alex. Brown issued a report on DuPont's Ag Biotech division entitled "Thanks, But no Thanks?" The analysts concluded that "although we are willing to believe that GMO (genetically modified organisms) crops are safe and may provide a benefit for the environment, the perception wars are being lost by industry."
Then, in December, Credit Suisse First Boston issued its own report, which says that the biotech industry is suffering from "negative momentum," that food manufacturers are running scared of GMO crops and "if anyone is in control it appears to be environment and consumer groups." The bank compared GM technology with nuclear power -- the science might be sound, it said, "but no one is building new nuclear plants today." MORE>>
Traitor and The New Life Science Industry
An Interview with Pat Mooney
Pat Mooney is the executive director of the Rural Advancement Foundation International (RAFI), an international non-governmental organization headquartered in Winnipeg, Manitoba, Canada. RAFI is dedicated to the conservation and improvement of agricultural diversity, and to the socially responsible development of technologies useful to rural societies. RAFI is concerned about the loss of genetic diversity -- especially in agriculture -- and about the impact of intellectual property on agriculture and food security. MORE>>