SEP 2003
VOL 24 No. 9
FEATURES:
Fishing Off the Deep End - And Back
by Carl Safina
Dead Seas: Nutrient Pollution in Coastal Waters
by Doug Daigle
Coasts at Risk: Coastal Sprawl and the Shore
by David Helvarg
Deep Trouble: Corporate and Military Designs on the Deep Seas
by Deborah Cramer
The Seaweed Rebellion: Marine Grassroots Movements to Protect Coastal and Ocean Ecosystems
by David Helvarg
INTERVIEWS:
Working for a New Ocean Ethos: Ocean Activism on the Shorelines
an interview with Christopher Evans
DEPARTMENTS:
Editorial
A Sea Change to Reverse the Oceans Crisis
The Front
Executive Excess
The Lawrence Summers Memorial Award
Oceans of Trouble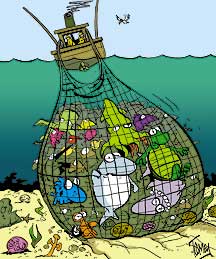 Cover: Jim Toomey
The Seaweed Rebellion: The Marine Grassroots Movement to Protect Coastal and Ocean Ecosystems
Faced with the collapse of marine wildlife from overfishing, habitat-destroying coastal sprawl, increased beach closures from polluted runoff and intensified hurricanes driven by fossil-fuel fired climate change, most people might wonder what they can possibly do to have an impact. Sociologist Margaret Mead gave the answer to that question more than half a century ago. "Never doubt that a small group of dedicated people can change the world," she said. "Indeed, nothing else ever has."
All across the United States, small groups of people who care have begun to act on their beliefs. As a result, seaweed citizen-activism -- grassroots activism to protect the oceans, seas and coasts -- is rising up faster than giant kelp, finding its hold fast in a public 54 percent of whose members now live near a marine coastline. MORE>>
Dead Seas: Nutrient Pollution in Coastal Waters
Human modification of the global carbon cycle (through the burning of fossil fuels) has garnered the lion's share of public attention due to the implications of climate change, yet human changes to the global nitrogen cycle have been just as profound.
From 1960 to 1990, human activities ranging from sewage pumping to use of synthetic fertilizers and pesticides to tailpipe emissions from cars and trucks more than doubled the amount of nitrogen in the global system, and increased the flow of nitrogen to U.S. coastal waters by four to eight times.
During the same period, the flow of another nutrient, phosphorous, into the oceans increased by a factor of three. South Florida's politically powerful sugar industry (federally subsidized since the U.S. embargo of Cuba was established) is just one example of a major user of phosphorous fertilizer in an ecosystem (including the Everglades and coral reefs) that historically has thrived in a low-nutrient environment. MORE>>
Deep Trouble: Corporate and Military Designs on the Deep Seas
by Deborah Cramer
The ocean offshore remains a mystery, but increasingly, as the federal government seeks energy and military security, the deep sea is coming under intense scrutiny. Congress would like to locate, size and claim untapped sources of fuel beneath the sea floor, the Department of Energy is exploring the potential for forestalling global warming by injecting captured carbon dioxide into the seabed or deep in ocean waters, and the U.S. Navy is hoping to employ low frequency sonar throughout vast swaths of ocean to detect stealth submarines. But for all the possibilities inherent in the poorly explored and understood deep seas, major risks and uncertainties lie in the ocean depths as well. The science surrounding these proposals for incursions into the sea is not fully developed. Aggressive efforts to exploit ocean resources threaten to alter, perhaps irrevocably, the finely-tuned chemical balances of the deep sea, with grave peril to animal and plant populations that dwell within it. MORE>>
Working for a New Ocean Ethos: Ocean Activism on the Shorelines
An Interview with Christopher Evans
Christopher Evans has been executive director of the Surfrider Foundation, a nonprofit organization based in San Clemente, California dedicated to ocean and coastal protection, since 1999. Before joining Surfrider, Evans spent 15 years as a prosecutor in the Orange County, California District Attorney's Office, where he ended up running the homicide division. He has also worked as a fire fighter and paramedic. Evans is a lifelong sailor, surfer and ocean enthusiast. MORE>>