JUL/AUG 2004
VOL 25 No. 7
FEATURES:
Monopoly Medicine: The Built-In Inefficiencies of a Patent-Based Pharmaceutical R&D System
by James Love
It's in the Genes: Patent Barriers to Genetic Research
by Lee Drutman
Buy the Numbers: Publishers Seeks Special Database Monopoly Protections
by Robin Gross
The Great Global R&D Divide
by Gunnar Westholm, Bertrand Tchatchoua and Peter Tindemans
INTERVIEWS:
The Rise of the Free Software Movement: Freedom from Proprietary Control
an interview with Richard Stallman
A Conspiracy of Silence: The Suppressed Evidence About Anti-Depressants
an interview with Charles Medawar
DEPARTMENTS:
Editorial
A Healthcare R&D Treaty
The Front
Rigging the System - Lay Does Perp Walk - Remembering Paul Klebnikov - "The Shame of Humanity" - Grief for the Reefs
The Lawrence Summers Memorial Award
The Political Economy of R&D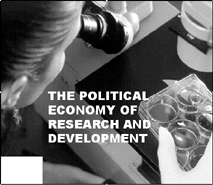 Monopoly Medicine The Built-in Inefficiencies of a Patent-Based Pharmaceutical R&D System
While the pharmaceutical industry routinely exaggerates its expenditures on research and development (R&D), it does nonetheless spend billions annually. According to the Pharmaceutical Researchers and Manufacturers Association (PhRMA), the trade association of the brand-name drug industry, its members spent more than $30 billion on R&D in 2003. But while most people would agree that spending on R&D is a good thing -- and, indeed, incentivizing spending on R&D is the main rationale for having a patent system -- not all R&D is equally important. The patent-based system does not provide rewards for R&D in general. Patents do not provide rewards for all innovations, only those for which there is a market.
Thus, most notably, perhaps, the system does not provide incentives for research into diseases that affect the poor in developing countries. While the health burden from these diseases may be tremendous, because the affected populations have no or minimal buying power, patents on drugs to cure or treat these diseases provide monopolies where there are few if any buyers. So, in general drug companies do not invest in what Doctors Without Borders calls the "neglected diseases" of the poor. MORE>>
It's in the Genes Patent Barriers to Genetic Research
In 1998, when University of Wisconsin scientist Dr. James A. Thomson became the first person to isolate human embryonic stem cells, the patent on stem cells went into the hands of the Wisconsin Alumni Research Foundation (WARF). WARF then licensed the patent to the Geron Corporation to develop the stem cells into six specific types of human tissue.
But while the patent on stem cells was a boon to Wisconsin and Geron, much of the rest of the scientific community responded with a collective gasp. With control of such a patent, would WARF and Geron stand in the way of future research on stem cells either by exacting licensing fees for researchers who needed to use the patented cells or even preventing researchers from using the cells at all? With treatments for Parkinson's, heart disease and diabetes potentially hanging in the balance, such licensing questions were not just academic. But it wasn't until September 2001, when the National Institutes of Health forced WARF to sign an agreement, that Wisconsin agreed to freely allow scientists from other universities to conduct their own research based on Wisconsin's patents. MORE>>
The Rise of the Free Software Movement: Freedom from Proprietary Control
an interview with Richard Stallman
Richard Stallman is an icon of the Free Software Movement, and the founder of the GNU Project, launched in 1984 to develop the free software operating system GNU. The name "GNU" is a recursive acronym for "GNU's Not Unix." Today, Linux-based variants of the GNU system, based on the kernel Linux developed by Linus Torvalds, are in widespread use. There are estimated to be some 20 million users of GNU/Linux systems today. Stallman is the principal author of the GNU Compiler Collection, a portable optimizing compiler which was designed to support diverse architectures and multiple languages, as well as other programs for the GNU operating system. The compiler now supports over 30 different architectures and 7 programming languages. Stallman is a recipient of a MacArthur Foundation "genius" award, among many other honors. MORE>>