JAN/FEB 2007
VOL 28 No. 1
FEATURES:
Oil Frontiers: The Future of Oil
by Andy Rowell
Half a Tank: The Impending Arrival of Peak Oil
by Mark Floegel
Latin America's New Petro Politics
by Nadia Martinez
China Eyes Africa: The New Imperialism?
by Walden Bello
The Katrina Syndrome: Big Oil's Interest In Tight Markets
by Judy Dugan and Tim Hamilton
20 Things About Corporate Crime
by Russell Mokhiber
INTERVIEWS:
Mission: Iraqi Oil - The Bush-Big Oil Scheme to Obtain Iraqi Petrolium Reserves
an interview with Antonia Juhasz
"All the Problems in Iraq Come from the Occupation." Iraqi Labor Leaders Speak Out
an interview with Faleh Abood Umara and Hashmeya Muhsin Hussein
DEPARTMENTS:
Editorial
The End of Oil
The Front
Sticking It to the Union -- Our of Work
Oil Frontiers: The Future of Oil
by Andy Rowell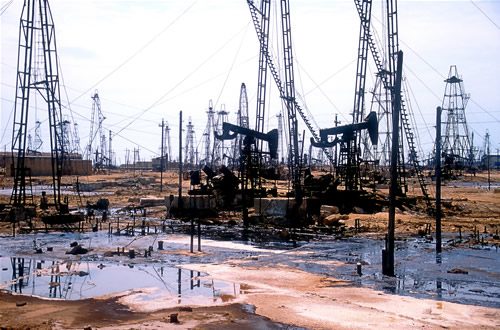 In January 2007, as the world's media focused on the latest dire warnings about climate change coming from leading scientists meeting in Paris, another conference passed relatively unnoticed. Called the "Arctic Frontiers Conference," it was held in Tromso, Norway.
The opening speech was given by the fresh-faced and enthusiastic Norwegian Minister of Petroleum and Energy, Odd Roger Enoksen. "Oil is a strategic commodity and no country can afford to run out of oil," he told his captive audience. "Here, the Arctic could play an important role. If the U.S. Geological Survey is right, 25 percent of the world's undiscovered petroleum reserves could be found in the Arctic."
The Arctic region could be part of the "solution to the growing energy needs of the world," Enoksen continued. Exploitation of these resources would lead to considerable economic development in the Northern areas, but such a development would also cause considerable environmental concern. MORE >>
China Eyes Africa: The New Imperialism?
by Walden Bello

"First, Europe and America took over our big businesses. Now China is driving our small and medium entrepreneurs to bankruptcy," Humphrey Pole-Pole of the Tanzanian Social Forum said at the World Social Forum (WSF), held in Nairobi in January. "You don't even contribute to employment because you bring in your own labor," he told Chinese speakers at a packed panel discussion organized by the semi-official "China NGO (nongovernmental organization) Network for International Exchanges."

Stung by such remarks, Cui Jianjun, secretary general of the China NGO Network, lost his diplomatic cool and launched into an emotional defense of Chinese foreign investment, saying, "We Chinese had to make the same hard decision on whether to accept foreign investment many, many years ago. You have to make the right decision or you will lose, lose, lose. You have to decide right, or you will remain poor, poor, poor." MORE >>
Latin America's New Petro-Politics
by Nadia Martinez

In his 2006 State of the Union address, President Bush famously stated that "America is addicted to oil." He soon followed that proclamation with an announcement that his solution to the addiction is to diversify U.S. sources of oil — not to diversify away from oil with clean, renewable sources of energy.

That is sure to mean increased U.S. political attention to Latin America. Oil multinationals are already looking to intensify drilling operations in Latin America, because that's where the oil is. The U.S. government and oil and gas companies are likely to pressure Latin American countries like Mexico, Venezuela, Colombia and Ecuador — already major suppliers of oil to U.S. markets — to ramp up production and to exploit new oil and gas fields. And Big Oil is likely to propose new exploration and development projects in Costa Rica, Nicaragua, Panama, Bolivia and Peru as the industry struggles to maintain a steady flow of energy resources to the North.

But the political landscape is rapidly evolving in Latin America, with traditional docility to U.S. economic and political demands giving way. As Latin American citizens express their discontent with conservative economic policies by electing more left-leaning leaders, countries are increasingly turning away from multinational energy companies and shifting their energy policies inward, nationally and regionally. MORE >>

At this point, Dale Wen, a Chinese environmentalist, intervened: "That's not true. The Chinese people did not decide to accept foreign investment. Deng Xiaoping [the late Chinese leader] decided." An African in the audience added: "You have to treat us with respect."