MAR/APR 2007
VOL 28 No. 2
FEATURES:
Big Pharma and AIDS Act II: Patents and the Price of Second-Line Treatment
by Robert Weissman
Manuel Cossa's Story: Mining and the Migration of AIDS
by Stephanie Nolan
Slow on Generics: Bush Policy Saves Lives, At a Premium
by M. Asif Ismail
HIV In Uganda: The Challenges of Getting Pills to Patients
by Richard Kavuma
Building Up Baja: US Suburbanization Comes to the Peninsula
by Dan La Botz
INTERVIEWS:
Cry for Action: Shameful Neglect and the Search for Hope in AIDS-Ravaged Africa an interview with Stephen Lewis
Four Million Short: The Healthcare Worker Shortage
an interview with Lincoln Chen
DEPARTMENTS:
Editorial
Deadly Dictates: The IMF, AIDS and the Healthcare Crisis
The Front
Climate Changing Africa -- African Inequality
The Lawrence Summers Memorial Award
AIDS: The Global Pandemic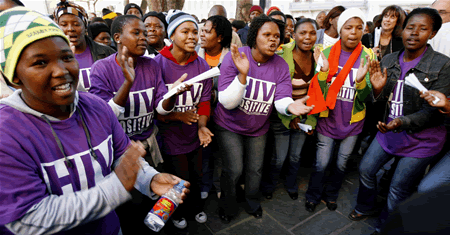 Big Pharma and AIDS Act II: Patents and the Price of Second-Line Treatment
by Robert Weissman
Six years ago, very few people with HIV/AIDS in the developing world outside of Brazil were receiving lifesaving antiretroviral (ARV) drug treatment. Today, more than two million are...
Yet even as African countries, with donor support, finally began rolling out large-scale treatment programs that relied on cheap generic drugs, a new drug pricing threat loomed.
Antiretroviral treatment involves fighting the HIV virus with a combination of drugs. Over time, people on ARV therapy develop resistance and need to switch to different medicines. The initial drugs people take are called first-line; they are followed by second-line and third-line therapies. The first-line therapies currently prescribed throughout the developing world use older drugs. Second- and third-line drugs are more recent inventions. The picture is now becoming more complicated, as new medicines for which Gilead and Merck hold patents are emerging as a preferred first-line therapy. These new medicines, combined as a once-a-day pill sold under the brand name Atripla, are not yet widely available in Africa.
In general, the older drugs are less heavily patented in developing countries than the newer ones. And the newer drugs are covered by patents in middle-income countries like Brazil, unlike the older ones invented before these nations were required under TRIPS to have patent protection for medicines. As a result, newer and second-line drugs are not subject to the robust competition that now prevails for first-line drugs, and are much more expensive. MORE>>
HIV in Uganda: The Challenges of Getting Pills to Patients
by Richard Kavuma
A somber aura hangs over the compound at Teresa Ntamalengero's home in central Uganda. The men are chatting in hushed voices, the women are huddled up on a bench, and the children stand quietly holding the bicycle rims they use as toys.
Inside her mud and wattle house measuring six-by-four meters, Teresa is helping her daughter Janet to sit up with the help of two neighbors. Teresa is 63. Her daughter, Janet Nakyanzi, is 28 but has lost so much weight she looks more like a child. They are both HIV-positive and they need antiretroviral drugs.
The younger woman's health has deteriorated more rapidly than her mother's. "She is very sick and we both need treatment but as you can see, I have nothing," says Teresa. Teresa attended two of the three mandatory training sessions needed to receive treatment; she did not make it to the third because she could not afford to pay for transport to reach the clinic. She had spent the afternoon trying unsuccessfully to raise the fare to take her daughter to the hospital. MORE>>
A Cry for Action: Shameful Neglect and the Search for Hope in AIDS-Ravaged Africa
An interview with Stephen Lewis
Formerly the Special Envoy for HIV/AIDS in Africa to UN Secretary-General Kofi Annan, Stephen Lewis is co-director of AIDS-Free World, a new international AIDS advocacy organization, and author of Race Against Time: Searching for Hope in AIDS-Ravaged Africa. He is a Professor in Global Health at McMaster University in Hamilton, Ontario. From 1995 to 1999, Lewis was Deputy Executive Director of UNICEF at the organization's global headquarters in New York. From 1984 through 1988, Lewis was Canada's Ambassador to the United Nations. MORE>>