JAN/FEB 2006
VOL 27 No. 1
FEATURES:
Not Kosher: The Ralph Reed-Jack Abramoff Connection.
by Andrew Wheat
The United States, Bolivia, and the Political Economy of Coca
by Gretchen Gordon
The CAFTA Chronicles: Strong-Arming Central America, Mocking Democracy
by Tom Ricker and Burke Stansbury
Thais Take to the Streets to Stop U.S. Trade Agenda
by Martin Khor
Drilling East Timor: Australia's Oil Grab inthe Timor Sea
by Charles Scheiner
INTERVIEWS:
Saving $60 Billion: Lawrence Korb's Common Sense Budget Defense Plan
An Interview with Lawrence Korb
The Market for Virtue: The Impact of Corporate Social Responsibility
An Interview with David Vogel
DEPARTMENTS:
Editorial
The Lobby Reform Fiasco
The Front
Philippines Gets Stomped - EPA Program Off Track
The Lawrence Summers Memorial Award
CAFTA Chronicles: Strong-Arming Central America, Mocking Democracy
by Tom Ricker and Burke Stansbury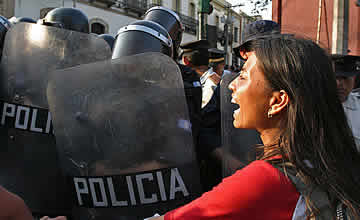 January 1, 2006 marked the date that the Bush Administration had set for implementation of the US-Central America-Dominican Republic Free Trade Agreement (DR-CAFTA). However, progress has been frustrated in various countries where the United States insists on the need for dramatic changes in domestic laws, often requiring constitutional changes before CAFTA goes into effect. Like the negotiations and the ratification of CAFTA, the implementation process is undemocratic, lacks transparency, and demonstrates the subordination of the six countries involved to U.S. corporate interests.
The original date is now past, and the Bush administration is adopting a strategy of "rolling implementation." Only governments that the United State Trade Representative (USTR) certifies have made necessary changes to their laws will be permitted to enter CAFTA.
By early 2006, the only country to implement dr-cafta was El Salvador. Honduras had announced plans to implement in April. Nicaragua may follow quickly, and Guatemala and the Dominican Republic are speaking of early summer. Costa Rica has yet to ratify the agreement, and that is expected to be a huge fight. MORE >>
Not Kosher: The Ralph Reed - Jack Abramoff Connection
by Andrew Wheat
Mounting evidence suggests that former Christian Coalition leader Ralph Reed Jr., along with a former leader of the Texas Christian Coalition, may have illegally lobbied Texas state officials on behalf of crooked federal lobbyist Jack Abramoff and his clients. While Reed seems likely to elude criminal prosecution, the Abramoff scandal already has taken a toll on his current campaign to be lieutenant governor of Georgia. By early 2006, Reed's opponent for the July 18 Republican primary had overtaken him in fundraising and poll numbers, and the Reed campaign acknowledged in January that it was paying people to attend a campaign event.
Last December, three Texas reform groups - Common Cause Texas, Public Citizen Texas and Texans For Public Justice - urged prosecutors in Austin to investigate whether Reed violated Texas' lobby-registration laws four years ago. Correspondence between Abramoff and Reed suggests that the former Christian Coalition leader lobbied Texas officials on behalf of Abramoff's Indian gambling clients without registering as a Texas lobbyist. The $5 million in gambling money that Abramoff reportedly paid Reed for his services would make it one of the largest lobby contracts ever made public in Texas. MORE >>
The United States, Bolivia, and the Political Economy of Coca
by Gretchen Gordon
Cochabamba, Bolivia - Over the past two decades, Bolivian coca growers' leader Evo Morales has been beaten, tear gassed and shot with rubber bullets at the hand of security forces while fighting for changes in Bolivia's drug policy. In a stunning turnaround in January, now flanked by those same military forces, Morales was inaugurated as Bolivia's new president.
Morales has garnered world attention with his promises to forge a new development path independent of U.S.-prescribed economic and political norms. While his new government could face international pressure on several issues, one of the most contentious areas for U.S.-Bolivian relations will likely be coca.
In Bolivia, as in much of the Andes, the coca leaf has for thousands of years been valued for its nutritional, medicinal and spiritual uses. For the last 10 years, however, eradication of the coca leaf, also a primary component in cocaine, has been a central strategy in the U.S. war on drugs.
Morales, who rose to power as a leader of the coca growers (cocaleros) union and as a strident opponent of the imposition of U.S. drug policies in Bolivia, has promised a two-pronged strategy with regard to coca and drug control. Morales' "zero cocaine, but not zero coca" policy involves a hard line on cocaine production and drug trafficking alongside a policy of decriminalization and industrialization of the coca leaf itself. How that platform is implemented, however, remains a question without clear answers. Whatever Morales does, he will need to maneuver between the competing interests and influences of two powerful forces - Bolivian cocaleros and the U.S. war on drugs. MORE >>