MAR/APR 2006
VOL 27 No. 2
FEATURES:
Plague and Profit: Business, Bureaucracy and Cover-up in the Spread of Avian Flu in Asia
by Mike Davis
Fowl Play: The Role of Agribusiness in the Avian Flu Crisis
by Devlin Kuyek
Migratory Birds as Scapegoats: The Role of Wild Birds in Spreading Avian Flu
by Dr. Leon Bennun
Questions and Answers on Bird Flu from the CDC

INTERVIEWS:
Preventing Pandemic: The Global Strategy to Stop a Bird Flu Pandemic Before It Starts (Or Control It, If It Does)
An Interview with David Nabarro
At Risk: The dangers of an Eroded Public Health System
An Interview with Irwin Redlener
The Sky May Not Be Falling: An Eminent Scientist's Cautious View on Bird Flu Anxiety
An Interview with Edwin Kilbourne
Stopping Spread Among Poultry
An Interview with Alex Theirmann
The Tamiflu Manufacturing Controversy
An Interview with Yusuf Hamied
DEPARTMENTS:
Editorial
The Political Economy of Bird Flu
The Front
Great Bear Rainforest Story -- Dirty Halliburton
The Lawrence Summers Memorial Award
Plague and Profit, Business, Bureaucracy, and Cover-Up in the Spread of Bird Flu in Asia
by Mike Davis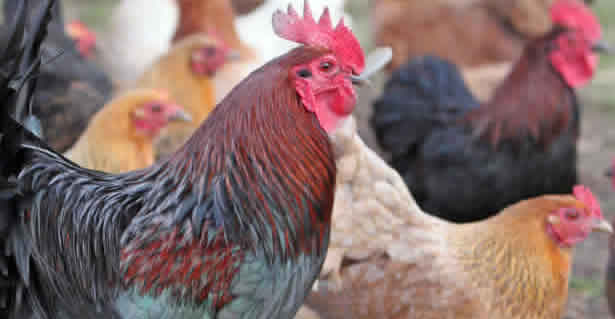 All of today's tens of billions of highly engineered factory chickens are descended from red jungle fowl that still roam wild in forest regions of Thailand and Vietnam. Using mitochondrial DNA analysis, Japanese researchers in 1994 demonstrated that chickens were domesticated in the area of present-day Thailand more than 8,000 years ago. The chicken, along with the pig and the buffalo, subsequently became the basis of agrarian culture throughout Southeast Asia. Chickens are likewise the bottom line of Asia's largest and most powerful agricultural-export conglomerate, Bangkok-based Charoen Pokphand. CP, as it is universally known, figures centrally in the story of H5N1's terrifying return in the winter of 2003-4 and the unprecedented highly pathogenic avian influenza epidemic that threatens to become a global human and ecological cataclysm. MORE>>
Foul Play: The Role of Agribusinesses in the Avian Flu Crises
by Devlin Kuyek
Bird flu is really nothing new. It has co-existed rather peacefully with wild birds, small-scale poultry farming and live markets for centuries. But the wave of highly pathogenic strains of bird flu that have decimated poultry and killed people across the planet over the past 10 years is unprecedented — as is today's transnational poultry industry.
Although the view from international organizations and the globalized poultry industry itself is to the contrary, there may be good reason to suspect a causal link between highly pathogenic strains of bird flu and the rise of globalized, factory farms. MORE>>
Migratory Birds As Scapegoats: The Role of Wild Birds
by Dr. Leon Bennun
There are several ways in which H5N1 can be spread within and between countries. Three major potential routes are the movements of infected poultry (and poultry products), movements of caged wild birds in trade and movements of wild birds. Effective responses need to focus on all of these possible means of spread.
Outbreaks among wild birds in Europe and Iran during 2006 show that wild birds are capable of carrying the virus to new sites after infection, possibly in a "leap-frog" fashion by travelling for a short time and passing on infection to another group of birds before dying. Many questions remain concerning the effects of the virus on wild birds and the efficiency with which they can spread it to other wild birds or to domestic poultry. MORE>>
Preventing Pandemic: The Global Strategy to Stop a Bird Flu Pandemic Before It Starts (Or Control It If It Does)
An interview with David Nabarro
Dr. David Nabarro was appointed as UN Systems Senior Coordinator for Avian and Human Influenza in September 2005. Before that, he served the World Health Organization in Geneva for six years, including a stint as Executive Director in the Office of the Director-General. Nabarro became a physician in 1973 and had jobs with the UK National Health Service, the District Child Health Office in Dhankuta District, East Nepal, the London School of Hygiene and Tropical Medicine Department of Human Nutrition and the Save the Children Fund. He was also Chief Health and Population Adviser at the UK Official Development Administration (now known as the Department for International Development) headquarters in London and Director of Human Development in the UK Department for International Development. MORE>>
The Tamiflu Manufacturing Controversy
An interview with Yusuf Hamied

Dr. Yusuf Hamied is the chair of Cipla, the Indian generic drug manufacturer that burst onto the international scene in 2001 when it announced it would offer an AIDS "cocktail" — a combination of antiretroviral drugs to treat HIV/AIDS — for $350 a year, at a time when brand-name makers were charging $10,000 a year or more. In addition to low-cost versions of Big Pharma's products, Cipla has innovated new combinations and formulations of many products, including the first effective three-in-one AIDS drug pill.

When Roche was claiming that no competitor could produce Tamiflu (generic name: oseltamivir) because of the complexity of the manufacturing process, Cipla again shocked the world by announcing last October that it would make a generic version available. MORE>>