Corruption Roll Call: The Most Corrupt Members of Congress
by Citizens for Responsibility and Ethics in Washington
Connected to the Abramoff scandal and under indictment for improper use of corporate funds in a scheme to cement Republican control over Congress, the powerful House of Representatives Majority Leader Tom DeLay resigned from office in April.
But the departed DeLay is not the only Member of Congress whose behavior merits scrutiny. There are a significant number of other members who have engaged in similarly egregious conduct, some in connection with Abramoff, some in other contexts.
Here are profiles of some of the most unethical activities by Members of Congress, from both parties. The list is by no means complete, but it does provide a distressing overview of the moral morass in Congress.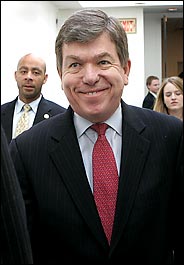 Representative Roy Blunt, R-Missouri
In 2003, Representative Roy Blunt, the Majority Whip in the House of Representatives, divorced his wife of 31 years to marry Philip Morris (now Altria) lobbyist Abigail Perlman. As the Washington Post reported, before it was known publicly that Blunt and Perlman were dating — and only hours after Blunt assumed the role of Majority Whip — he secretly tried to insert a provision into Homeland Security legislation that would have benefited Philip Morris, at the expense of competitors.
In addition, Blunt's son Andrew lobbies on behalf of Philip Morris, a major client he picked up only four years out of law school. Altria is Blunt's largest campaign contributor, having donated more than $270,000 to political committees tied to him.
In 2003, reported the St. Louis Post-Dispatch, Blunt also helped his lobbyist son Andrew by inserting a provision into the $79 billion emergency appropriation for the war in Iraq to benefit U.S. shippers like United Parcel Service and FedEx. The provision required that military cargo be carried only by companies with no more than 25 percent foreign ownership. UPS and FedEx were seeking to block the expansion of a foreign-owned rival's U.S. operations. Andrew Blunt lobbies on behalf of UPS in Missouri, and UPS and FedEx have contributed at least $58,000 to Blunt since 2001.
Blunt and his staff had close connections to uber-lobbyist Jack Abramoff. In June 2003, Abramoff persuaded Majority Leader Tom DeLay to organize a letter, co-signed by Speaker Hastert, Whip Roy Blunt, and Deputy Whip Eric Cantor, that endorsed a view of gambling law benefiting Abramoff's client, the Louisiana Coushatta, by blocking gambling competition by another tribe. Abramoff donated $8,500 to Blunt's leadership political action committee (PAC), Rely on Your Beliefs.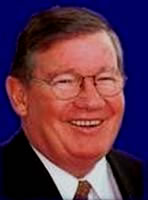 Representative Randy Cunningham, R-California, Resigned
Former Representative Randy "Duke" Cunningham was forced to resign from Congress after pleading guilty to criminal charges including tax evasion, conspiracy to commit bribery, mail fraud and wire fraud in November 2005. He was later sentenced to serve 8 years and 4 months in prison — the longest sentence ever for a sitting Member of Congress.
In what the Washington Post would call "the most brazen bribery conspiracy in modern congressional history," Cunningham maintained a "bribe menu" in his office to explain what he felt would be fair to exchange for helping arrange contracts worth specific amounts.
Federal prosecutors say Cunningham gorged himself on a variety of selections off the menu, which "ran the gamut from the routine (expensive meals, hotels and travel) to the peculiar (buck knives, lasershot simulator system), the audacious (demands that a defense contractor pay defendant's cross-country moving expenses and additional cash bribes so the defendant could comfortably pay capital gains tax on a prior bribe conveyed through a housing transaction), the self-indulgent (luxury vehicles, yachts, homes and antique Louis Philippe commode, Persian rugs) and the truly astonishing ($500,000, divided into two checks from one defense contractor, and a $525,000 wire transfer from a second defense contractor)."
In late 2003, defense contractor Mitchell Wade purchased Cunningham's Del Mar, California home for $1.675 million. Property sales records analyzed by Copley News Service show that the average sales price for similar-size homes in the same area was at least $500,000 less than the price Wade paid for Cunningham's home. Wade resold the property in October 2004 for $975,000, taking a $700,000 loss on the property.
In Washington, over a 15-month period, Cunningham lived on a 42-foot yacht, the Duke-Stir, anchored at a marina on the Potomac River and owned by Wade, paying less than the rental market value of the yacht for the privilege.
Wade and his defense contracting firm MZM, Inc. contributed more than $50,000 to Cunningham's political committees since 2000. Cunningham used his position on the Appropriations Committee to see that MZM, Inc. received numerous government contracts.
Cunningham was later charged with taking $2.4 million worth of bribes from Wade and Brent Wilkes, owner of ADCS Inc., another military contractor. In February, Wade pleaded guilty to paying Cunningham more than $1 million in bribes.
Cunningham also helped convicted bid-rigging computer services contractor Thomas Kontogiannis seek a pardon from President Bush.
In exchange, Kontogiannis purchased a yacht from Cunningham for $400,000 more than Cunningham paid five years earlier. U.S. Coast Guard records do not reflect the sale of the boat; rather they show that Cunningham is still the boat's owner. Kontogiannis and his family also provided assistance to Cunningham in other real estate transactions.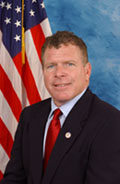 Representative Tom Feeney, R-Florida
Representative Tom Feeney traveled to Scotland — apparently to play golf — from August 9 to 14, 2003. Feeney initially claimed that the cost of the trip was paid for by the National Center for Public Policy Research, but the Center denied paying for the trip. Feeney subsequently claimed to have discovered that the $5,643 bill was actually paid by lobbyist Jack Abramoff. Feeney claims he was "misled" and "lied to" about who actually paid for the trip, Knight-Ridder reports.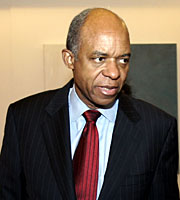 Representative William Jefferson, D-Louisiana
Representative William Jefferson is the subject of an ongoing criminal investigation for wire fraud, bribery of a foreign official and conspiracy to bribe foreign officials, according to a 2006 FBI affidavit. In August 2005, FBI agents raided his home in New Orleans and his home and car in Washington, D.C., apparently finding a large amount of cash in his freezer.
Federal subpoenas issued in the case indicate that investigators are seeking information about Jefferson's efforts to find investors to underwrite a deal to bring broadband service via iGate, a small technology firm, to approximately 200,000 people in Nigeria. Through a former aide, Brett Pfeffer, Jefferson found a wealthy investor to distribute iGate's technology in Nigeria. According to criminal charges against Pfeffer, who in January pled guilty to conspiracy to commit bribery of a public official (Jefferson), once the company agreed to the investment in the technology, Jefferson agreed to perform various official acts to promote the Nigerian Deal, including by working to influence high-ranking officials in the Nigerian government and by meeting with personnel of the U.S. Export-Import Bank to facilitate potential financing.
Jefferson then demanded a 5 to 7 percent stake in the investor's Nigerian operation, according to the charges against Pfeffer, and that a member of his family be put on the company payroll. Pfeffer understood that in making these requests, Jefferson was soliciting a bribe in exchange for his official assistance in furthering the Nigerian Deal.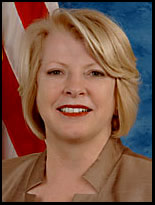 Representative Marilyn Musgrave, R-Colorado
Representative Marilyn Musgrave has her district office and campaign headquarters located at 5401 Stone Creek Circle in Loveland, Colorado. Musgrave has claimed that her congressional campaign was run out of suite 777, while her district office was in suite 204. A floor plan of the building, however, indicates that there is no suite 777, and people who have visited her campaign office have been directed to an alarmed fire door as the main entrance to that office, according to the Sterling Journal-Advocate in Colorado. The only other entrance is through the congressional office itself, suggesting the front door of the campaign office is actually the district office's back door. If, as the evidence suggests, Musgrave has been soliciting campaign contributions from her district office, she is in violation of federal law.
Musgrave also appears to have misused the franking privileges afforded Members of Congress by sending a letter on congressional stationary endorsing district attorney candidate Bob Watson, according to reports in the Fort Morgan Times. Musgrave claimed that the endorsement was sent on campaign stationery rather than congressional stationery because the address on the paper was "Suite 777" (the "phantom" campaign office discussed above). In all other respects the stationery used was identical to Musgrave's congressional stationery.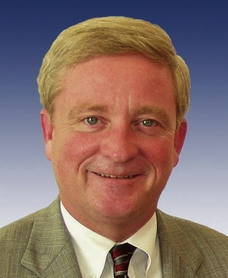 Representative Bob Ney, R-Ohio
Representative Bob Ney is currently under investigation by the Justice Department for engaging in "a series of official acts" that benefited Jack Abramoff's clients. These acts included meeting with Abramoff clients, placing statements in the Congressional Record, awarding a contract to Abramoff client Foxcomm Wireless, and agreeing to support and pass legislation benefiting one of Abramoff's clients, the Tigua tribe of El Paso, Texas.
Ney's relationship with Abramoff began in 2000, when Ney assisted Abramoff in buying SunCruz Casinos, a fleet of gambling ships in Florida, by twice entering comments in the Congressional Record. In March 2000, Ney inserted comments criticizing the one-time owner of SunCruz, Konstantinos "Gus" Boulis; then in October, Ney praised Abramoff's business partner, Adam Kidan who, along with Abramoff, has since pleaded guilty to fraud regarding the purchase. In February 2001, Boulis was murdered in a gangland-style slaying that remains under investigation. Five weeks after Boulis' death, Kidan hosted a $1,000-a-head fundraiser for Ney in Abramoff's MCI Center skybox. Ney now claims to have inserted the remarks into the Congressional Record at the behest of Abramoff associate and former spokesperson for then-Majority Leader Tom Delay, Michael Scanlon, and claims not to have known that Abramoff was connected to the deal.
In 2001, Ney assisted Abramoff by approving a contract for Foxcomm Wireless, an Israeli telecommunications company, to provide wireless service to the House of Representatives. The company later paid Abramoff $280,000 for his lobbying efforts and donated $50,000 to Abramoff's charity, the Capital Athletic Foundation.
In late 2001 through early 2002, Abramoff worked with his friend and business partner Michael Scanlon, as well as with Christian activist Ralph Reed, to close the Speaking Rock Casino run by the Tigua Tribe of El Paso, Texas. Once the casino was shuttered, Abramoff convinced the Tigua to hire him and Scanlon to lobby Congress to re-open the casino, without ever telling the tribe of the mens' role in closing the casino.
On March 20, 2002, Abramoff sent Scanlon an e-mail stating that Ney had agreed to assist the pair by pushing legislation that would re-open the casino. "Just met with Ney!!! We're f'ing gold!!!! He's going to do Tigua," Abramoff wrote. A mere six days after Ney agreed to push the issue, Abramoff sent the Tigua's political consultant, Marc Schwartz, an e-mail asking that Schwartz Fed-Ex $32,000 worth of checks to Ney.
In early June 2002, Ney asked Abramoff to arrange a golf trip for him and some of his staff. Abramoff complied, sending an e-mail to Schwartz explaining that Ney had asked the Tigua to help pay for a luxury golf trip to Scotland on a private plane to play at the legendary St. Andrews course. The e-mail states "our friend" "asked if we could help (as in cover) a Scotland golf trip for him and some staff … I anticipate that the total cost … to be around $100K or more."
On July 25, 2002, Ney met with Senator Christopher Dodd, D-Connecticut, and was surprised to learn that Dodd was unwilling to attach the Tigua's legislation to pending election reform legislation, the vehicle Ney was hoping to use to re-open the casino. Although he shared the news with Abramoff, no one, including Ney, delivered this piece of bad news to the Tigua.
That August, concerned about the inaction on the legislation, Schwartz requested a meeting between tribal representatives and Ney. Abramoff cautioned Schwartz not to discuss Ney's golf trip to Scotland stating, "BN had a great time and is very grateful, but is not going to mention the trip to Scotland for obvious reasons. He said he'll show his thanks in other ways which is what we want."
Later that month, when Ney met with Tigua tribal leaders, not only did Ney fail to mention his conversation with Dodd, he assured the tribe that he would fix the Tigua's problem through a conference committee report.
It was not until October that the Tigua learned that Ney would not solve their problem. Rather than telling the Tigua the real story — that Dodd had never agreed to legislation — Ney told the tribe that Dodd had gone back on his word. In a written statement submitted to the Senate Indian Affairs Committee, which eventually held a hearing on this situation, Dodd stated that he never told Abramoff, Scanlon or Ney "that [he] would in any manner work legislatively to recognize the Tigua Tribe."
Following Abramoff's guilty plea in January 2006, the Justice Department placed Ney, referred to as "Representative No. 1" in court documents, in the "first tier" of lawmakers allegedly under investigation. Abramoff, Kidan, Scanlon and Tony Rudy, a former deputy chief of staff to Tom DeLay, Abramoff colleague, and Alexander Strategy Group lobbyist, all of whom have pleaded guilty, also all implicated Ney in criminal conduct in their respective plea agreements. In addition, all four have agreed to cooperate in the ongoing Department of Justice investigation.
Ney announced in August that he will not seek re-election.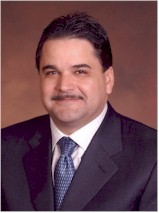 Representative Richard Pombo, R-California
Representative Richard Pombo is chair of the House Resources Committee, and a Member of Congress with a host of ethical problems.
In October 2004, Pombo used the franking privileges afforded Members of Congress to mail approximately 175,000 copies of a two-page leaflet that openly praised the House Resources Committee and the Bush administration for their promotion of a series of regulations expanding snowmobiling in national parks. The leaflets were sent to snowmobile owners in the swing states of Wisconsin and Minnesota. Pombo authorized the expenditure of $68,081 from House Resources Committee funds for the mailing as "official business," according to the Star-Tribune in Minneapolis
Pombo has been an outspoken critic of an unsuccessful attempt by a Chinese company, China National Off-Shore Oil Corporation (CNOOC), to buy Unocal, a California energy company. Pombo sent a letter to President Bush raising concerns about the deal and sponsored a resolution criticizing the CNOOC bid. Chevron, a chief opponent of the deal and rival for the purchase of Unocal, has contributed $13,000 to Pombo since 2003.
In 2004, Pombo's office sent a letter to Secretary of the Department of Interior Gail Norton, urging the Department of the Interior to suspend environmental guidelines opposed by the wind-power industry. As the San Jose Mercury News reported, the letter failed to disclose that Pombo's parents have received hundreds of thousands of dollars in royalties from wind-power turbines on their 300-acre ranch. Moreover, Pombo himself stood to gain financially from his parents' wind-power contracts, as he owns an interest in his parents' ranch and maintains substantial monetary ties with his family. The wind-farm regulation falls under the jurisdiction of the Resources Committee, chaired by Pombo.
As chair of the House Resources Committee, Pombo is responsible for tribal-related legislation. As a result, Indian tribes have invested increasingly in Pombo's political campaigns. In total, Pombo's campaign and leadership committees have collected $221,000 from tribes since 1999.
The tribal contributions have often coincided with House Resource Committee hearings on Indian issues. For example, as the Alameda Times-Star revealed, the Osage Tribe of northern Oklahoma gave Pombo's political action committee (Rich PAC) $2,500 on March 10, 2004, and another $2,500 on March 18, 2004. The Resources Committee held a hearing on March 15, 2004 on a bill to free the Osage Tribe from a 1906 treaty that deprived the tribe of certain sovereign rights enjoyed by other tribes. Six members of the Mashpee Wampanoag Tribe of Cape Cod, which has fought for federal recognition since 1990, each gave Rich PAC $2,000 on September 29, 2003. Among the donors was the tribal president, who was called to testify at the Resource Committee's March 31, 2004 oversight hearing on the tribal recognition and acknowledgment process. In addition, just days before the July 14, 2005 hearing that the House Resources Committee was holding on land claims involving the Shinnecock Tribe, Pombo attended a $5,000 per person fund-raiser for Rich PAC held at a baseball All Star Game. The event was co-hosted by Christopher Illitch and Mike Malik. As it happens, Illitch's mother and Malik are partners in Gateway Funding Associates, which is bankrolling the Shinnecocks' efforts to build a casino in Southampton, New York.
Pombo's support for two new freeways in California's Central Valley and East Bay has also raised the specter that he is using his position to financially benefit him and his family. According to public records, the Pombo family owns more than 1,500 acres of land near the two proposed freeways, the value of which will likely skyrocket because of the federal funds Pombo has obtained to study the highway projects. If even one of the proposed freeways is eventually built, according to the East Bay Express of Northern California, the value of the 183.6 acres of property owned by the Pombos and located near the proposed freeway will be worth far more than its currently assessed value of $1.19 million.
Pombo has made significant payments to family members since becoming a Member of Congress. While lawmakers are prohibited from putting relatives on their congressional payrolls, it is not illegal to employ family members to work on campaigns, as long as the family member is not paid significantly more than the market rate and does bona fide campaign work. Pombo's family is among the recipients of the largest payments. Over the last four years he paid his wife and brother $357,325 from his political funds, allegedly for "bookkeeping, fund-raising [and] consulting." Pombo's payments to his wife and brother amounted to 25 percent of what he raised.
Pombo also appears to have misused staff time and federal dollars. Just prior to the November 2004 election, he granted paid leave to much of his committee staff, at least some of whom left to work on campaigns.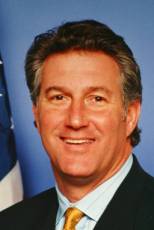 Representative Rick Renzi, R-Arizona
Representative Rick Renzi was elected to Congress in 2002. His campaign that year, according to a Federal Election Commission audit, relied heavily on loans — $369,090 worth — made using impermissible corporate funds.
In 2003, Renzi sponsored legislation (signed into law in November 2003) that dealt hundreds of millions of dollars to his father's business while, according to environmentalists, devastating the San Pedro River. The provision exempted the Army's Fort Huachuca base in Sierra Vista, Arizona from maintaining water levels in the San Pedro River as called for in an agreement made in 2002 with the U.S. Fish and Wildlife Service. Renzi claimed he introduced the measure to prevent the closing of the Fort and to promote its enlargement. Notably, neither the fort nor the river is located in Renzi's district.
A key beneficiary of Renzi's legislation, reported the Phoenix New Times, was ManTech International Corporation, a Fairfax, Virginia-based defense contractor where Renzi's father, Retired Major General Eugene Renzi, is an executive vice president. ManTech had $467 million in contracts at Fort Huachuca with options for an additional $1.1 billion between 2004 through 2008. In addition, the company, which has an office in Sierra Vista, Arizona, was the largest contributor to Renzi's 2002 congressional campaign and the second largest in his 2004 campaign.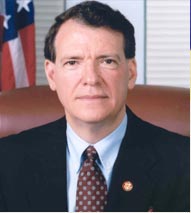 Representative Charles H. Taylor, R-North Carolina
Representative Charles H. Taylor maintains very lucrative outside business interests. One of his outside business interests is the Blue Ridge Savings and Loan, an Asheville, North Carolina bank he founded, chairs and in which he holds a majority interest.
Beginning in the mid-1990s, Financial Guaranty Corporation, the holding company for Blue Ridge Savings and Loan, and an entity chaired and owned by Taylor, made a series of loans to Russian companies with interest rates as high as 60 percent. While active in pushing Congress to support a Western-style home mortgage program in Russia, Taylor bought an 80 percent stake in a Russian bank in Ivanovo, making it the first U.S.-owned bank in Russia. Taylor also founded a Russian investment company called Columbus, which appears to work in concert with the Commercial Bank of Ivanovo. Columbus was formed to overcome some of the restrictions of Russian banking law and expand the kind of investments Taylor could make in Russia. Taylor would go on to take taxpayer-funded trips to Russia to explore and advance his personal business interests.
Taylor has also come to the aid of campaign contributor General Electric, whose executives and/or political action committee combined to contribute $8,250 to his 2004 re-election. Subsequently, at the company's request, according to Time Magazine, Taylor inserted language in a spending bill that would have benefited the company by calling for further study of PCB dredging projects. If approved, General Electric could have used the bill to justify further delay in its clean-up of the Hudson River.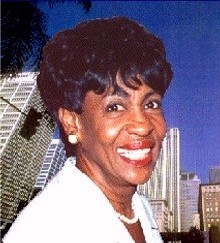 Representative Maxine Waters, D-California
Representative Maxine Waters' family has benefited from her term in office. Her daughter, Karen Waters, has benefited primarily by charging for spots on her mothers' "slate mailers" issued by L.A. Vote, a non-profit, political organization that sends sample ballots to South Los Angeles residents featuring the photo of Waters and the names of candidates she supports. Charges for a spot on the ballot have ranged widely, from $171,000 for an affluent California businessman running for elected office, to tens of thousands of dollars for candidates such as former Governor Gray Davis, to $250 for a school board candidate. Of the $1.7 million collected by L.A. Vote over the last eight years, mainly from candidates who have paid to have their names appear on slate mailers, the Los Angeles Times reports that approximately $450,000 has gone to Karen Waters and her consulting firm, Progressive Connections, and $115,000 to Waters' son, Edward.
Waters' husband, Sidney Williams, has benefited financially from his wife's political clout, reports the Los Angeles Times. He has worked as a part-time consultant for a bond underwriting firm seeking government investment, Siebert, Brandford & Shank. Despite his lack of experience in the bond business, he was hired as a consultant for the company. As a consultant, Williams has collected close to $500,000 by making valuable introductions for Siebert to politicians who have received his wife's support. For example, when school board members in Inglewood, a city in Waters' congressional district to which she guaranteed a $10 million loan from the Department of Housing and Urban Development, needed a bond underwriting firm to handle a $40 million school bond sale, they chose Siebert. Williams earned $54,000 in commission from the deal.
Waters' son Edward, together with her husband Sidney Williams, also benefited from her political connections when they won a 20-year lease to run the county-owned Chester Washington Golf Course in South Los Angeles. The key decision-maker for the deal was County Supervisor Yvonne Brathwaite Burke, in whose district the golf course was located. Waters handed the County Supervisor a victory just several months earlier when she endorsed Burke in a close election. Financial records indicate that Williams and Waters earned between $140,000 and $400,000 through the golf venture.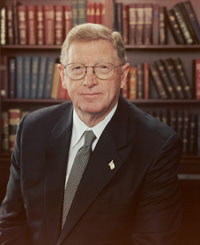 Senator Conrad Burns, R-Montana Senator Conrad Burns is chair of the Senate Interior Appropriations Subcommittee, giving him jurisdiction over all U.S. federal lands, the National Park Service and the budget of the Bureau of Indian Affairs.
Burns' campaign committees have received substantial contributions from Jack Abramoff, Abramoff's associates and Abramoff's tribal clients.
Burns received more money from Abramoff than did any other Member of Congress. Between 2000 and 2002, Abramoff, his associates and his tribal clients contributed a whopping 42 percent of the total money received by Burns' political action committee, totaling more than $137,000.
Abramoff's largesse to Burns appears to have benefited Abramoff's clients. According to the Washington Post, Burns applied pressure to the Interior Department to direct a $3 million federal grant intended for poor tribal schools to the Saginaw Chippewa tribe of Michigan, one of the wealthiest tribes in the country (each member of the tribe receives $70,000 annually) and a client of Abramoff's. Burns urged the Interior Department to reverse its ruling that the tribe was not entitled to receive the federal funds to build a new school. Stymied by Interior's unwillingness to change the rule, Burns earmarked the money for the Saginaw Chippewa in a 2004 Senate appropriations bill.
Two of Burns' key staff members, Appropriations Committee staffer Ryan Thomas, and chief of staff Will M. Brooke, flew to the 2001 Super Bowl on a corporate jet leased by Abramoff and accompanied by several staffers from House Majority Leader Tom DeLay's office. These staffers also visited a SunCruz gambling ship, partly owned by Abramoff, during the same junket. At the end of 2003, Brooke left Burns' office to work for Abramoff.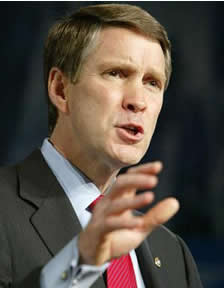 Senator Bill Frist, R-Tennessee
Senator Bill Frist, the Majority Leader of the Senate, is under investigation by the Securities and Exchange Commission for insider trading, following revelations that he sold shares of Hospital Corporation of America (HCA), the for-profit hospital chain founded by his father and brother, just two weeks before the company announced its earnings would not meet expectations. Although the shares had been held in a supposed blind trust, Frist received regular reports from the trustee. He claims his sell order was given to avoid allegations of conflict of interest over his participation in healthcare legislation.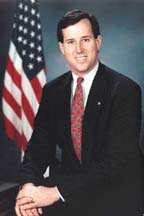 Senator Rick Santorum, R-Pennsylvania
Two days before Senator Rick Santorum introduced a bill that would benefit private national weather companies, the Associated Press revealed that the Senator's political action committee, America's Foundation, received a $2,000 donation from the chief executive officer of a leading weather data provider located in State College, Pennsylvania, called AccuWeather, Inc.
Santorum's bill, titled the National Weather Services Duties Act of 2005, would require the taxpayer-funded National Weather Service to collect weather information using taxpayer money, but only distribute it to private sector weather companies like AccuWeather and the Commercial Weather Services Association (CWSA). The National Weather Service would be permitted to share weather information directly with the public only in the case of severe weather.
Santorum's legislation again caused a stir in the aftermath of Hurricane Katrina, when he stated in an interview with a local Philadelphia radio station that the National Weather Service failed to predict the storm's fury and that its warnings were "not sufficient."
In fact, the early warnings about Hurricane Katrina issued by the National Weather Service have been praised for their accuracy by news organizations such as Associated Press, NBC News and The New York Times.
---
Citizens for Responsibility and Ethics in Washington (CREW) is an impact-litigation and watchdog group that aims to "target government officials who sacrifice the common good to special interests." This article is based on the CREW report, "Beyond Delay: The 13 Most Corrupt Members of Congress."